Letter of Variation
This letter is a very helpful tool that can be used to vary an existing employment agreement.
Salary Review Letter
Increasing salaries or wages? Use this letter template to provide employee confirmation of the remuneration changes and recognition of their contribution to the company.
Salary Advancement Process Checklist
Following a performance appraisal, managers may consider a Salary Advancement Process. This checklist ensures a fair and consistent assessment process is applied across the organisation.
Salary Review Letter - No Increase
Use this letter to outline that there will be no wages/salary increase for the next period and outcomes required before the next review date.
Salary Variation Form
This form should be completed by managers who are required to confirm changes to an employee's salary/wages for payroll purposes.
Save Time
Spend less time developing documentation and more time on your people. Simply populate this template with your company name and logo.
Be Compliant
Compliant with New Zealand standards and developed by experts, this template ensures best people practice for your organisation.
Grow Confidence
Feel confident that your organisation is doing things the right way. Get your documentation right from the outset.
Get this template with HR Today
Creating, researching and formatting an application template is challenging, time-consuming and requires specialist knowledge.
With an HR Today account, you'll have access this Application for Employment Template to get the recruitment process rolling quickly and efficiently.
Not only that, you'll get access to an extensive library of document templates, our full knowledge base, and personalised HR support from our team.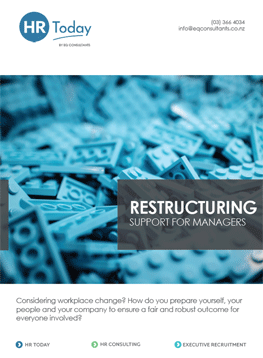 Don't walk away empty-handed
Download our free guide to employment today, packed with useful information about how best to lead your team, and how to approach many situations.
Searching for a trusted HR or recruitment partner?
Get in touch to discuss a solution that works for you and your people.