About this template
This form has been designed to capture all of the essential information that would be required from applicants for a position or vacancy. Although applicants can also still be requested to supply a CV/resume in addition (if required), the application form provides essential information for all of the applicants in a standard format that will make the process of reviewing and screening them easier. Also, very important is that job applicants are required to sign a formal declaration to the effect that they have been truthful in supplying all relevant information. The latter will hopefully cause any applicant who might otherwise be inclined to be less than truthful to "think twice", or if an applicant is appointed and is subsequently found to have supplied false or misleading or withheld information which is used in the appointment process, then the company may have grounds to dismiss that person.
Once again, the format, lay-out and certain details on the Application Form can be modified or adapted as appropriate to meet your company's specific needs.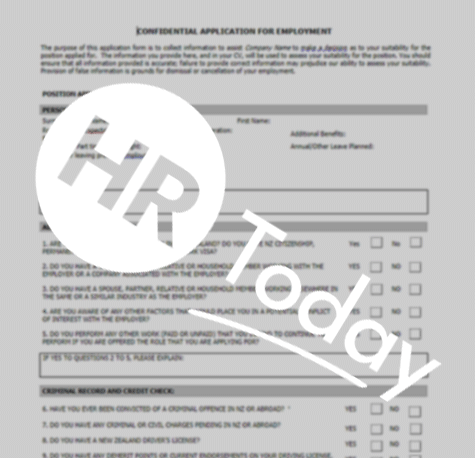 Save Time
Spend less time developing documentation and more time on your people. Simply populate this template with your company name and logo.
Be Compliant
Compliant with New Zealand standards and developed by experts, this template ensures best people practice for your organisation.
Grow Confidence
Feel confident that your organisation is doing things the right way. Get your documentation right from the outset.
Get this template with HR Today
Creating, researching and formatting an application template is challenging, time-consuming and requires specialist knowledge.
With an HR Today account, you'll have access this Application for Employment Template to get the recruitment process rolling quickly and efficiently.
Not only that, you'll get access to an extensive library of document templates, our full knowledge base, and personalised HR support from our team.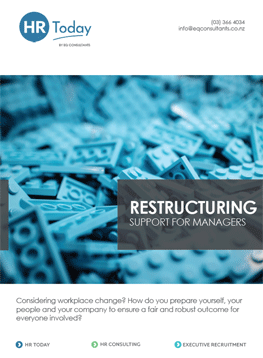 Don't walk away empty-handed
Download our free guide to employment today, packed with useful information about how best to lead your team, and how to approach many situations.
Searching for a trusted HR or recruitment partner?
Get in touch to discuss a solution that works for you and your people.