Performance Appraisal Guide 2022
This guide will take you through the process for conducting a performance appraisal and why we recommend assessing employees under the three areas of Abilities, Motivation, and Opportunities.
Performance Appraisal Checklist
The performance appraisal checklist explains the different areas of the performance appraisal process. 
Letter - 90 Day Trial Period Termination
During the 90 Day Trial Period, the Employer may exercise their right to dismiss the employee if it is felt that they are not suitable for the position for which they were employed. It is recommended you contact the HR Today help desk before issuing this letter.
Performance Review / Appraisal 2021
This performance appraisal document is newly created and in line with best practice. The Employee and the Employer / Appraiser share a common objective: to provide the Employee with skills and knowledge that will allow them to perform their job effectively. This should be used in conjunction with the Guide for Performance Appraisal 2021.
Letter - Successful 90 Day Trial Period Notification
When an employee successfully completes their 90-day trial period, you should formally acknowledge and congratulate the employee in writing.
Performance Appraisal Information Guide
This comprehensive guide and explains the process of the performance appraisal for both the employer and employee. 
Performance Appraisal Form
Use this performance appraisal form to document the evaluation and feedback with an employee.
Performance Appraisal Form (short version)
Use this short performance appraisal form for roles that do not warrant an extensive process and to provide the employer with alternative options on how to conduct the review. 


Save Time
Spend less time developing documentation and more time on your people. Simply populate this template with your company name and logo.
Be Compliant
Compliant with New Zealand standards and developed by experts, this template ensures best people practice for your organisation.
Grow Confidence
Feel confident that your organisation is doing things the right way. Get your documentation right from the outset.
Get this template with HR Today
Creating, researching and formatting an application template is challenging, time-consuming and requires specialist knowledge.
With an HR Today account, you'll have access this Application for Employment Template to get the recruitment process rolling quickly and efficiently.
Not only that, you'll get access to an extensive library of document templates, our full knowledge base, and personalised HR support from our team.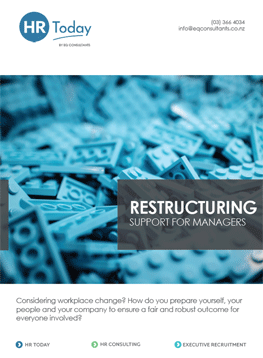 Don't walk away empty-handed
Download our free guide to employment today, packed with useful information about how best to lead your team, and how to approach many situations.
Searching for a trusted HR or recruitment partner?
Get in touch to discuss a solution that works for you and your people.