Leave Management Checklist
Leave Management is an area that is frequently not addressed by employers because they are unsure of the correct way to implement the process. This section has been designed specifically to address sick leave and annual leave. Use this checklist to establish your leave management documentation.
Letter - Annual Close Down Notification
This letter should be used to inform employees of your annual close down period.
Letter - Annual Leave Instruction (Trans-Tasman Bubble)
As a result of the Trans-Tasman bubble opening, we have created a letter to send out to your employees who intend to take leave and travel across the ditch. This letter explains the implications and expectations of those individuals intending to travel overseas.
Leave Application Form
Employers have a legal obligation under the Holidays Act to grant annual leave to employees so that they can have time off work for rest and recreation. To meet this obligation, it's important that the employer plans and schedules annual leave properly for employees. Use this Leave Application Form if you do not have a dedicated payroll system. It also reflects the ability of employees under the Holidays Act to request to convert annual leave into paid sick leave, if and when this is required.
Sick Leave Management Flowchart
The Sick Leave Management flow chart is a reminder to consider the context and reasons why they may need to address the sick leave absence of any employee. It is important that sick leave is managed consistently and fairly – although each situation needs to be considered on its merits, taking into consideration the company's and employee's circumstances.
Formal Sick Leave Review Process - Planned Sick Leave
This flowchart outlines several options when responding to sick leave. The key to managing long term sick leave (and in some cases terminal illness) is to maintain open communication throughout the process. Be open and flexible with the employee about the options available to both the company and the employee. Remember that conditions of employment (hours of work etc) can be re-negotiated provided there is agreement by both parties.
Formal Sick Leave Review Process - Unplanned Sick Leave
Although most employment agreements have limited paid sick leave it is important to address any additional sick leave above the average. This flowchart outlines the steps needed when indicating concerns to the employee about any significant sick leave absence.
Formal Sick Leave Review Letter
This letter should be used to invite the employee to the formal sick leave review. It is standard practice for the letter to be given at least two working days before a meeting to enable representation to be provided.
Annual Leave Management Flow Chart
The Annual Leave Management Flow Chart can be followed to identify the steps required when engaging with employees that may have large amounts of annual leave owing and, as a result, could be a risk to the business.
Letter: Request for Management Leave Plan
The Request for Management Leave Plan letter can be used in the event that your employee has not taken annual leave and is required to outline their leave intentions. On occasions, employees may become run-down or unwell if they are not having reasonable annual breaks from work. Always check the annual leave balance of an employee if there is a pattern of sick absence or perhaps a decline in work performance.
Letter: Annual Leave Instruction
This is a formal instruction for the employee to take leave. It is the last option available to an employer. This usually indicates that the employee has no work/life balance or alternatively believes the company cannot function without them. The 'health' of the company should also be reviewed to ensure that others can cover the role of the employee when they are not available for work. It is high risk for the company if one employee is the sole controller/operator of core company processes.
Acknowledgement of request for Flexible Working Hours
This is a template letter to acknowledge that you have received a formal request for 'Flexible Working Arrangements' from an employee. It also indicates the date on which this was received as employers need to provide a decision to the request within three months of receiving the request.
Letter: Jury Service Excuse
In the majority of cases the employee should be released to fulfill jury service requirements. In genuine and extreme situations if or when the company needs to have the employee excused from jury service, this template letter can be used.
Flexible Working Arrangements Checklist
As of 1st July 2008 employees now have the right to apply for Flexible Working Arrangements. If a formal request is made the employer must follow a process. Use the following checklist to understand the required process.
Letter: Declining Application for Flexible Working Arrangements
In some cases, your organisation may not be able to approve the requested flexible working arrangement. When declining a request, you should: state the ground/s for refusal, and explain the reasons for these. This template can be used when declining an application.
Letter: Approving and Confirming Changes in Working Arrangements
This letter outlines the employer's decision to approve the application, what the new Flexible Working Arrangements are and any agreed timeframes.
Disputes Process
What to do if you cannot agree with the employee on the outcome of a request? Use the following guide to try and resolve the dispute. We highly recommended contacting the HR Today helpdesk if you cannot reach an agreement with the employee.
First notice about Entitlement to Parental Leave
Employers should respond to an employee's notice of parental leave within 21 days of receiving the request. This letter can be used as a template when responding to an employee within 21 days after receiving notice that the employee wishes to take parental leave.
Letter - Second Notice Entitlement to Parental Leave
Employers should confirm an employee's parental leave period within 21 days after the employee begins his or her parental leave. Managers can use this letter as a template when responding to an employee.
Save Time
Spend less time developing documentation and more time on your people. Simply populate this template with your company name and logo.
Be Compliant
Compliant with New Zealand standards and developed by experts, this template ensures best people practice for your organisation.
Grow Confidence
Feel confident that your organisation is doing things the right way. Get your documentation right from the outset.
Get this template with HR Today
Creating, researching and formatting an application template is challenging, time-consuming and requires specialist knowledge.
With an HR Today account, you'll have access this Application for Employment Template to get the recruitment process rolling quickly and efficiently.
Not only that, you'll get access to an extensive library of document templates, our full knowledge base, and personalised HR support from our team.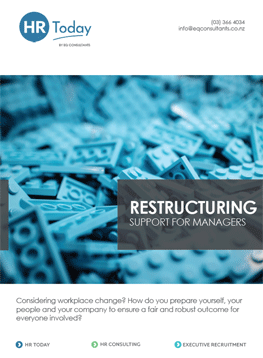 Don't walk away empty-handed
Download our free guide to employment today, packed with useful information about how best to lead your team, and how to approach many situations.
Searching for a trusted HR or recruitment partner?
Get in touch to discuss a solution that works for you and your people.