Privacy Consent for Wage subsidy
This letter can be used to notify employees about their personal information being collected as part of the COVID-19 wage subsidy application. The Privacy Act requires employers to notify employees if they are sharing any personal details. 
Navigating Vaccine Requirements Within the Workplace
This document focuses on those employees that are not covered by the COVID-19 Public Health Response (Vaccinations) Order 2021 and those businesses that aren't explicitly listed under the new COVID-19 Protection Framework.
Covid-19 Protection Framework
The Government has announced the next stage of the COVID-19 response plan to provide a pathway out of lockdown and give vaccinated New Zealanders more freedom.

Print this protection framework out and put it up around the work office.
Email Correspondence - Mandated Sectors
This email correspondence can be used to notify employees within the mandated sectors what the new vaccination requirements mean, the key dates, and the obligation to provide evidence of their vaccination status.
Mandatory Vaccination - Meeting Invitation Letter
Employers operating in the government's mandated sectors will need to meet with employees that refuse the vaccination or refuse to confirm their vaccination status. This invitation letter sets out the requirements and potential outcome if employees refuse to receive the Pfizer by the key dates. 
Termination Letter - COVID-19 (Vaccination Refusal)
After meeting with the employee and carefully considering their response you have decided that you are going to terminate their employment. You should notify the employee of your final decision and follow it in writing with this letter. 
Covid-19 Vaccination Status Form
This form enables you to find out the vaccination status of your employees if you have a genuine reason for doing so.
Save Time
Spend less time developing documentation and more time on your people. Simply populate this template with your company name and logo.
Be Compliant
Compliant with New Zealand standards and developed by experts, this template ensures best people practice for your organisation.
Grow Confidence
Feel confident that your organisation is doing things the right way. Get your documentation right from the outset.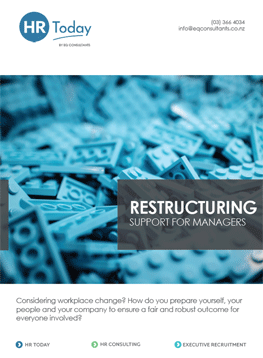 Don't walk away empty-handed
Download our free guide to employment today, packed with useful information about how best to lead your team, and how to approach many situations.
Searching for a trusted HR or recruitment partner?
Get in touch to discuss a solution that works for you and your people.