Induction Checklist
Use this Induction Checklist to collect the appropriate information required for the employee's personnel file. It also ensures that the employment agreement has been signed by the employee prior to starting employment and that the employer has evidence of the identification of the applicant and all the legal paperwork. It is important that the relationship with the employee is clearly outlined and that expectations from both sides have been clarified.
Appointment Information Checklist
Use this checklist as a step-by-step guide to your latest employee appointment.
Letter - 90 Day Trial Period Termination
During the 90 Day Trial Period, the Employer may exercise their right to dismiss the employee if it is felt that they are not suitable for the position for which they were employed. It is recommended you contact the HR Today help desk before issuing this letter.
Casual Employment Agreement
A template for an Individual Employment Agreement for Casual Employees.
Individual Employment Agreement for a Permanent Role
A template for an Individual Employment Agreement for a permanent role.
Fixed Term Employment Agreement
A template for a Fixed Term Individual Employment Agreement.
Volunteer Agreement
Volunteer agreements can be used to set out both an organisation's commitment to its volunteers and what it hopes for from its volunteers. They act as a reference point for volunteers and a reminder to the organisation that it should meet the standards of good practice that it has set.
Letter - Successful 90 Day Trial Period Notification
When an employee successfully completes their 90-day trial period, you should formally acknowledge and congratulate the employee in writing.
Letter of Variation
This letter is a very helpful tool that can be used to vary an existing employment agreement.
Letter of Offer for Fixed Term Employees
This letter template can be used when offering fixed-term contracts.
Letter of Offer for Casual Employees
This letter template can be used when offering employment to casual employees.
Letter of Offer for Permanent Full-Time or Part-Time Employees
A letter template, which can be used when making an offer of permanent full-time or part time employment.
Personal Contact Details Form
The template form provided for the purpose of obtaining from a new employee all the relevant personal contact information and details that are required to ensure the employer can correctly administer payment and such other matters as may be necessary during the employment relationship.
Declaration of Work Fitness
Use this declaration form to ensure that you as the employer are aware of and can accommodate the particular health and safety needs of an individual with a pre-existing health or disability issue that does not otherwise preclude them from being able to perform the job properly. 
Staff Induction Booklet
Induction is a critical time for any new employee as it is the introduction to the company, the company's values and vision, and "the way that we do things around here." Use this booklet as a guide for orientation and other useful company information.
Employee Post Induction H&S Declaration
Requesting the new employee to sign this form reinforces the health and safety orientation processes and ensures that this important induction is completed. The company has a legal obligation to ensure that the workplace is safe.
Save Time
Spend less time developing documentation and more time on your people. Simply populate this template with your company name and logo.
Be Compliant
Compliant with New Zealand standards and developed by experts, this template ensures best people practice for your organisation.
Grow Confidence
Feel confident that your organisation is doing things the right way. Get your documentation right from the outset.
Get this template with HR Today
Creating, researching and formatting an application template is challenging, time-consuming and requires specialist knowledge.
With an HR Today account, you'll have access this Application for Employment Template to get the recruitment process rolling quickly and efficiently.
Not only that, you'll get access to an extensive library of document templates, our full knowledge base, and personalised HR support from our team.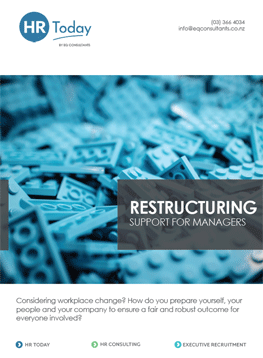 Don't walk away empty-handed
Download our free guide to employment today, packed with useful information about how best to lead your team, and how to approach many situations.
Searching for a trusted HR or recruitment partner?
Get in touch to discuss a solution that works for you and your people.